Charleston Installation & Repair Services
Dishwashers
24/7 Emergency Plumbing Services – Licensed, Bonded & Insured
Dishwasher Installation & Repair Charleston
Many major appliances have made the transition into the eco-friendly world, and dishwashers are no different. An energy efficient dishwasher can put less stress on your wallet while also putting less stress on the planet. RooterNow offers dishwasher installation and repair services. With an energy efficient dishwasher, you will see a decrease in your energy and water usage, which will translate into lower utility bills for you monthly and annually. So whether your current dishwasher has already hit the dust, is about to or is costing you too much money to use, upgrading to an energy efficient dishwasher will help you in more than one way. Being Earth-friendly isn't the only reason to upgrade from your older dishwasher. The quality of cleaning is an important factor. Just like any other major appliance, with time, dishwashers don't function as well as they did on day one or even a few years in. This may even leave you with dishes that aren't thoroughly cleaned, sanitized or dried as the dishwasher gets older.
What To Look For In A Dishwasher
There are many factors to consider when looking into buying a new dishwasher. Many dishwashers will come with a lot of different options and some not nearly as many. The best dishwashers are, above all, Energy Star compliant, which will help you financially and our planet environmentally. In addition to being Energy Star compliant, many of the dishwasher's functions and features help it be even more energy efficient.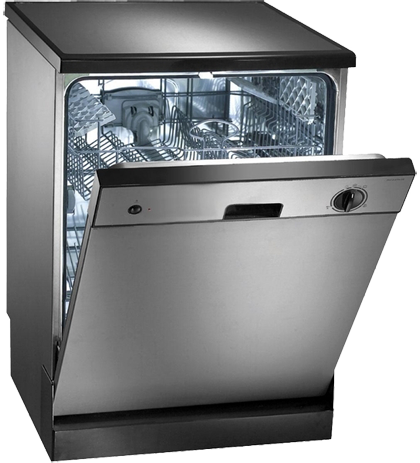 Functionality
There's a lot that goes into how a dishwasher functions, and what makes it function well. For instance, the number of spray arms, cycles and options on the dishwasher will make a difference in how well your dishwasher performs. The more cycles and options that are on the dishwasher will allow you more alternatives for cleaning, sanitizing and drying your dishes. Additionally, dishwasher with a higher place setting capacity means you can clean more dishes in a single load, minimizing the need for extra loads.
A dishwasher's functionality also includes the estimated yearly operation cost and its estimated yearly energy consumption. The lower both of them are, the more energy efficient the dishwasher will be, in turn, helping your pocketbook and environment simultaneously. Additionally, the sound level of the dishwasher is important – the lower the sound level, the quieter the dishwasher is when running a load.
Features
Some dishwashers have an overwhelming number of features, while some only have the basics, but the more features the dishwasher offers, the higher cleaning, drying and sanitizing quality the dishwasher has. Furthermore, features such as an air dry option, a fan dry option, an optimum wash sensor and a small load option make the dishwasher more energy efficient.
Warranty Coverage
A dishwasher should at minimum come with a one- year limited warranty on labor, parts, racks, and electronics, as well as and on the tub and door liner. However, the best dishwashers will offer a longer warranty on the dishwasher racks, the electronics and the tub and door liner, ranging from between 2-10 two to 10 years. Additionally, many of the dishwashers will come with a lifetime warranty for the tub and door liner.
Need A Dishwasher Installations & Repairs in Charleston SC ?
Call Your Local Plumber Now