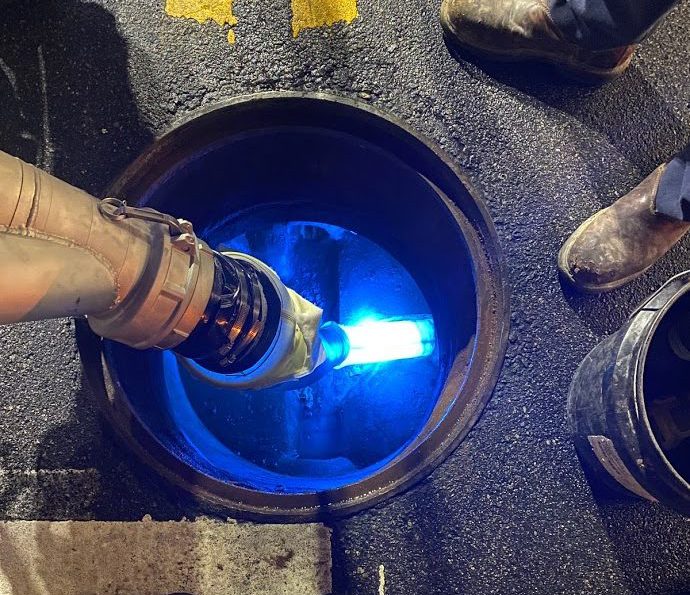 Here's what you need to know about the revolutionary Speedylight+ UV LED curing system.
We recently added the Speedylight+ UV LED curing system from Sewertronics into our arsenal to make the CIPP relining process much simpler and more effective. After only a few liner installations we have to say that this system has been absolutely AMAZING!
Back in December of 2019, the Team over at Pipeline Renewal Technologies came over to demonstrate how the UV LED curing system worked. As we watched the, our eyes couldn't believe how quickly the liner cured inside the existing pipe. Take a look at this video of the after-result from the fast curing UV LED system.
If you are still wondering what makes this system so great, here's 5 reasons why the Speedylight+ UV LED curing system is a game-changer!
1. Faster cure time
The Speedlight+ UV LED curing system is able to cure cured in place liners at speeds up to 1,2m/min. This means the average time to cure the liner is up to 5 times faster than other pipe relining methods. With this technology, we can work more efficiently and be done with the process in your home or business in no time!
2. Damage reduction
We know how much care you put into your home or business and the last thing we want to do is cause significant damage to your property. With this pipe repair method, you can be sure that you won't have to worry about extensive damages done to your landscape or property.
3. Eco friendly
The UV LED curing system uses less energy overall to make the process more green which helps to protect the environment and reduce waste.
4. Trenchless
Trenchless sewer repair is the best way to replace broken or corroded pipes caused by root infiltration and years of usage. This means NO TRENCHES will be dug around the landscape of your property and the whole process is completed underground thanks to state-of-the-art trenchless technology.
5. Health risks reduced
The amine and styrene-free vinyl ester resin is odorless so you won't have to worry about being exposed to harmful odors while the liner gets installed.
Hopefully, you now see just how Amazing the UV LED CIPP system is and how it has changed the game in the trenchless pipe repair industry. At RooterNOW we make sure our team is equipped with the latest and greatest technology available to provide our customers with the best service possible!