Charleston Video Camera Inspection
We Will Pinpoint The Exact Problem
24/7 Emergency Plumbing Services – Licensed, Bonded & Insured
Sewer Camera Inspection
Whether you are living in a residential area or working in a building that has a drainage system, the drain and pipes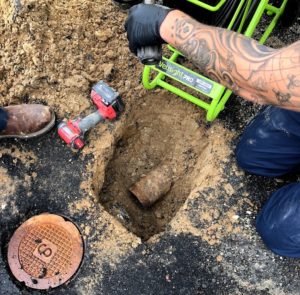 will at one time or another get clogged up. We provide drain cleaning services that incorporate a sewer camera inspection of your pipes and drains.
All RooterNOW® plumbers uses closed circuit television (CCTV) cameras to inspect pipe works. This new technology allows our professional staff to fully inspect your pipes for any damage or wear to your pipes. So, for example, if a tree root has pierced your pipes we'll be able to pinpoint the exact location. The sewer cameras are also used in the detection of debris and dirt build up.
In the past plumbers would have to remove pipes or use snakes to discover the source of your sewer and drain problems. This not only took more time to complete, it was more expensive and often resulted in property or landscaping being disrupted. Our cameras diagnose the problem immediately and often we can then complete the repair or unclog the drain in a fraction of the time and cost without creating any damage to your property.
We carry out surveying pipe works that save the client a huge amount of money since the company carries firsthand knowledge that permits it to learn conditions of every inch of the drains, sewers.
The client will always be in the know of the condition of the drainage and nasty surprises will be avoided at any cost.
Benefits of a Sewer Camera Inspection
No guesswork. Avoid overkill solutions and unnecessary digging based on guesswork
Included for free with every drain cleaning or sewer relining
Pinpoint problems underground. Don't pay for repairs that aren't your responsibility
Low cost pipe locating method
See the issues as we make recommendations

Danielle Q.
How Does it Work?Video Camera Sewer Inspection
Find your local RooterNOW® today and get same day service to repair you sewer.

Sewer Line Accessed & Inspected
The sewer line is accessed through a nearby cleanout. Once the line is visually inspected for standing water or backups that would impede visibility, the camera is inserted into the line to reveal the areas of concern.

Two Direction Inspection
Technicians advance the camera along the line as you watch along, noting any problems along the way. The line is inspected both from the cleanout to the main sewer and also back into the home to ensure a proper diagnosis.

Suspect Areas Located
Areas of potential issue are then located above ground to identify where they are on the property and assess the surrounding area. You are then given a highly accurate diagnosis which identifies the stage of the problem.