Professional Local Plumbers
Sewer Pipe Relining Experts
Emergency Plumbing Services
On Call 24/7
24/7 Emergency Plumbing Services Charleston – Licensed, Bonded & Insured
Sewer Pipe Relining
So What Exactly Is Sewer Pipe Relining?
With sewer pipe relining, the new inner pipe lining is a long special fabric tube that has been wet out or saturated with a resin that hardens by itself within 2-4 hours when cured by steam. The new inner pipe only reduces the pipe diameter by about 5%, so flow is not affected, and the pipe lining material has a 50-year engineered life and typically comes with a 10 year warranty.
If you sewer system keeps getting backed up, traditional methods of unclogging your sewer line will only give you a temporary fix. Usually the culprit of damaged and blocked sewer lines are from tree roots and debris that can crack the pipes and find their way into your sewer lines. This causes blockages or even complete breaks in your sewer system. By getting a camera inspection, your local RooterNOW® of Charleston, SC plumber can see exactly what the problem is and will know the best method to repair you sewer line.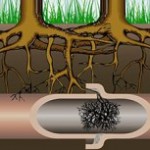 After your RooterNOW® of Charleston, SC plumber has inspected your sewer system and determines that your pipe is damaged, the first step is to clear out the pipe. This can be done through water jetting or hydro-jetting which forces water through the pipe to eliminate all clogs and debris. If this isn't an option, any obstructions will be removed through other methods. Once the pipe is clear, the sewer pipe relining begins. Instead of removing the old pipe and installing a new one, a new pipe will be installed inside the old one.
Although some digging may be required, It is not to the extent it used to be. The latest technology is called trenchless sewer repair, which means we can repair or even replace your sewer line completely without having to dig up and damage your yard.
How Does Sewer Pipe Relining Work?
The sewer pipe relining process begins with the sewer pipe being cleaned with a high pressure water jetter that removes all roots and sludge from inside. This is followed by a sewer pipe video inspection to determine the length of pipe that has to be relined. Then, a long special fabric tube is cut to the correct length and the self hardening part A and part B epoxy resins are mixed and used to completely saturate the fabric tube.
The fabric tube is then either pulled into the broken pipe or air pressure is used to shoot the liner into the pipe. Then the fabric tube is inflated with air for 2-4 hours while the resin hardens with assistance from steam.
After the new liner is fully cured, a final pipe video inspection is made for quality control.
How Strong Is The New Inner Pipe?
With sewer pipe relining, the final new inner pipe is designed for load-bearing pipes that are located under roads, railways and building footers. If, for example, a section of clay or cast iron sewer pipe is missing, the new inner lining is designed to be a stand-alone pipe.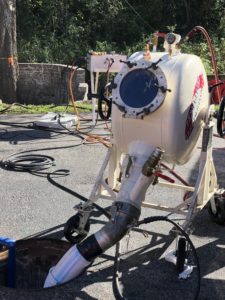 Pipe relining is the modern alternative to pipe replacement!
In fact, sewer pipe relining IS pipe replacement
The new lining that is installed inside the old pipe is as strong as the new pipe
10-year warranty included
50 year engineered life expectancy
Only reduces the internal diameter by 5%
Let's not forget, since pipe relining requires no excavation, it is cleaner, less invasive and much faster than re-piping the old-fashioned way.
Which Pipes Can Be Relined?
Sewer pipe relining, also known as Cured-In-Place Pipe (CIPP) is used for clay pipe replacement, cast iron pipe repair, HVAC pipe repair, storm drain replacement, golf-course overflow drainage pipes, drinking water lines, and sewer pipe lining of sanitary sewer pipe.
CIPP Process – A resin-saturated felt tube made of polyester is inverted or pulled into a damaged pipe. It is usually done from the upstream access point (manhole or excavation). It is possible to invert the liner upstream (e.g. from the downstream access point) but this carries greater risk. It is possible to install a liner from the downstream access point, upstream to a blind end however this carried the highest risk of all the CIPP installation methodologies. Little to no digging is involved in this trenchless process, making for a more environmentally friendly method than traditional "dig and replace" pipe repair methods.
The liner can be inverted using water or air pressure. The pressure required for inversion can be generated using pressure vessels, scaffolds or a "Chip unit". Hot water, UV light, ambient cured or steam is used to cure the resin and form a tight-fitting, joint-less and corrosion-resistant replacement pipe. Service laterals are restored internally with robotic controlled cutting devices. These can be sealed with additional seals into the lateral connection (Lateral Junction Repair). The rehabilitated pipe is then inspected by closed-circuit television (CCTV). CIPP is considered a trenchless technology.
Does The Whole Pipe Have To Be Lined?
No, especially for clay pipes, only the cracked pipe or root intrusion area is relined. This "sectional repair" is also called a "point repair" and costs a fraction of what relining the whole pipe would cost.
But usually cast iron pipes in residential dwellings and apartments are all of the same age and have experienced the same corrosive environmental conditions, so when one portion of the sewage pipe starts leaking or backing up, usually the rest of the cast iron pipe has to be lined too.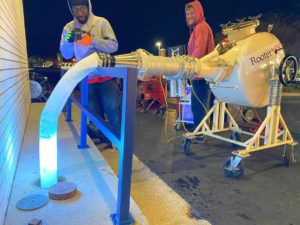 Contact us today about our sewer pipe relining services and we will get you an estimate and dispatch a plumber to meet your needs immediately.
Please follow & like us 🙂