Charleston Installation & Repair Services
Water Heaters (gas, electric, tankless)
24/7 Emergency Plumbing Services – Licensed, Bonded & Insured
Water Heater Installation & Repairs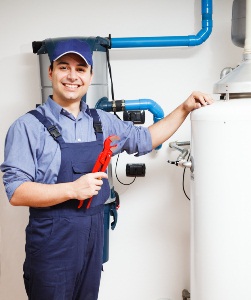 RooterNOW® plumbers provide residential and commercial hot water heater installation and repairs. Water Heating is the second largest expense in your home accounting for 14% to 18% of your Utility Bill according to the Department of Energy. Most people are unaware of the choices you have in Hot Water Heaters. There are many types of water heaters, but the most common household water heaters are gas hot water heaters, electric hot water heaters and tankless hot water heaters. A conservative estimate is the average household spends between $400.00 and $600.00 per year on hot water. For larger families, this can easily be more. Finding the best possible solution for your hot water heater needs can save you energy and money in the long run. RooterNOW® local plumbers are able to install and repair all types of water heaters at an affordable price. Here are 5 ways you can help reduce the cost of your water heater today:
Wrap It Up – Your hot water heater can be wrapped with a fiberglass insulated blanket. This is especially vital if it's stored in an unheated area. This can cut your losses up to 40%. They're inexpensive to purchase and to install. When wrapping, be sure not to block the thermostat or air inlets.
Low-flow Fixtures – Every unit will run more efficiently if used less often. The average family uses about 700 gallons of high temperature water a week. Investing in low-flow showerheads and faucet aerators can reduce consumption by as much as 60%.
No Extra Settings – Skip the pre-wash feature and drying feature on your dishwasher to save energy. Dishwashers of today are designed to tackle dirty dishes with a vengeance, no pre-wash necessary as long as you rinse your dishes first.
Check the Temperature – The factory default on a hot water heater is usually set high, but can be set much lower. The recommended setting to avoid bacteria build up is 120 degrees. If you hot water heater does not have a temperature gauge simply put it between low and medium.
Drain Sediment – Your water contains minerals such as iron and other things, which naturally build up in your heater over time. It's crucial to keep the pipes and drains free of this debris for efficiency. Drain your water heater at least once a year to help it run properly for years to come.
If you are in need of a water heater installation and repair specialist, please contact us today to get a free estimate for your water heater installation and repair needs!

Ethan L.
Local Licensed Plumbers – Available 24/7
Plumbing Emergency?
Contact us ANY time – Day or Night!
SAME DAY SERVICE
Our Licensed Plumbers offer Same Day Service.